CSA News Magazine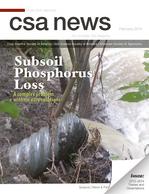 This Month's Feature
Through his dedication and lifelong effort, Norman Borlaug was credited with saving a billion lives and earned the nickname "Father of the Green Revolution." But while his accomplishments are oft-reported, the research that led to them is less well known. So on the occasion of his 100th birthday, we look back on his tireless efforts, the research that led to a revolution, and the circumstances in which he was able to change the course of agriculture.
About
CSA News is the official magazine for members of the American Society of Agronomy, Crop Science Society of America, and Soil Science Society of America. CSA News online is available to current members/subscribers. Not a member but want to subscribe? Learn how>>
Online ISSN: 2325-3584 | Print ISSN: 1529-9163

Archive
Advertising and Sponsorships
Reach more than 10,000 ASA, CSSA, and SSSA members, and more than 14,000 certified professionals through our advertising, sponsorship, and marketing opportunities. For more information, rates, digital file submission guidelines, and more, please see Advertising/Sponsorships or contact our sales representative, Alexander Barton, at 847-698-5069 or abarton@sciencesocieties.org.

CSA News Magazine Editorial
CSA News welcomes letters, comments, and contributions, published on a space-available basis and subject to editing. The deadline is the first of the month preceding publication. The views in CSA News do not necessarily reflect an endorsement by the publishers. To present information clearly, CSA News may use trade names of some products. No endorsement of these products is intended.
Address correspondence or questions to:
CSA News magazine, 5585 Guilford Road, Madison, WI 53711
608-268-4968; fax: 608-273-2021
news@sciencesocieties.org
For inquiries not directly related to the magazine, email headquarters@sciencesocieties.org or call 608-273-8080.

Event Calendar
Calendar entries may be submitted to CSA News magazine via our event calendar.

Career Center
To view and post job announcements online and in CSA News magazine, visit our Career Placement Center.