Crop Breeding and Genetics
CSSA offers specialized Divisions of Interest, giving you the opportunity to develop focused peer networks and information resources. Via the divisions, members present papers at the Annual Meetings and participate in the business meetings. The divisions may also host listservs, web pages and newsletters. As a division member, you can also guide the division direction by participating in elections and serving through leadership opportunities. You may join as many CSSA divisions of interest as you would like, as a CSSA member.
Division C01 of the Crop Science Society of America focuses upon the discovery, maintenance, and modification of germplasm, biometrical and biochemical genetics, cytogenetics, crop evolution, morphology, and related studies.
Photo on far left: Harvesting soybeans
Photo courtesy Bill Schapaugh, Submitted by: Bill Schapaugh, Interim Head and Professor, Agronomy Department, 2004C Throckmorton Hall, Kansas State University, Manhattan, KS 66506-5501
Photo on near left: Injecting samples in a mass spectrometer
Photo courtesy Mike Shillinglaw, Submitted by: Mike Shillinglaw, Agriculture and Agri-Food Canada, Cereal Research Centre, 195 Dafoe, Rd., Winnipeg, Manitoba, R3T 2M9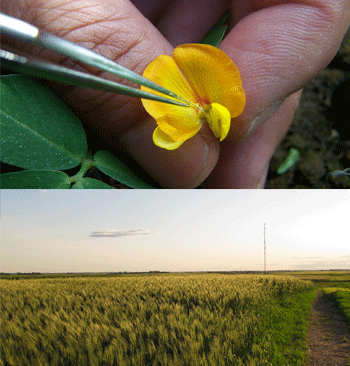 Photo on top right: Emasculation of peanut flower
Photo courtesy of Charles Chen, Submitted by Charles Chen, Ph.D., Research Geneticist, USDA-ARS National Peanut Reseach Laboratory, 1011 Forrester Dr., SE., Dawson, GA 39842.
Photo on bottom right: Wheat field in Willison North Dakota
Photo courtesy Junyun Yang, Submitted by Junyun Yang, Dept. Plant Sciences, North Dakota State University, Fargo, ND
Division Bylaws and Minutes
CSSA Division C-1 Bylaws

Business Meeting Minutes
Business Meeting Minutes 2016

Business Meeting Minutes 2015

ANNOUNCEMENTS
Graduate Student Guidelines for Competition in 2016
Div. C-01 sponsors a Graduate Student Poster Competition where judging is based on the following criteria: 1) scientific content, 2) ability to answer quesitons, speaking ability, engage audience, 3) merit, justification, and feasibility of research, and 4) organizaiton and appearance.
tPosters should be formatted according to instructions from meeting organizers and include Title, Author, Introduction, Methods, Results, and Conclusions sections. A photocopy of the poster should also be available at the poster display. Poster contest winners will be awarded $500 for first place, $350 for second place, and $150 for third place. The student author must be present during judging to be eligible for competition. Eligible participants must have student status during the 2015-2016 academic years and the poster must represent the student research. Winners will be announced at the business meeting or shortly following the annual meeting.
Winners of Division C-01 Poster Competition in 2016
The C-01 Graduate Student Poster Competition was a great success with 33 poster presentations by students in Crop Breeding and Genetics. There were many good posters but three student presentations stood out from the rest and were awarded best posters of the competition.
1. Megan Liewen, Washington State University, Nested Association Mapping of Water Use Efficiency in Spring Wheat (Triticum aestivum L.) Using Carbon Isotope Discrimination Analysis and Remote Sensing Traits; Advisor: Arron Carter (Poster 163-1402)—$500
2. Madhav Bhatta, University of Nebraska, Broadening the Genetic Base of Wheat Using Primary Synthetic Wheat; Advisor: Stephen Baenziger (Poster 163-1302)—$350
3. Linda Brown, Michigan State University, Using the Aegilops tauschii D Genome to Improve Preharvest Sprouting and alpha-Amylase Traits in Hexaploid Wheat; Advisor: Eric Olsen (Poster 163-1419)—$150
2016 Annual Meetings
The ASA, CSSA, and SSSA Annual Meetings took place in Phoenix, AZ – Nov. 6-9, 2016 with the theme "Resilience Emerging from Scarcity and Abundance."