Western Society of Crop Science
The Western Society of Crop Science comprises the states and provinces of Alaska, Alberta, Arizona, American Samoa, Baja California, Baja California Sur, British Columbia, California, Chihuahua, Colima, Colorado, Durango, Guam, Hawaii, Idaho, Jalisco, Montana, Nayarit, Nevada, New Mexico, Northwest Territories, Oregon, Saskatchewan, Sinaloa, Sonora, Utah, Washington, Wyoming and Yukon Territory.
View the Branch Map >>
Western Society of Crop Science Annual Meeting
July 12-13, 2016
Albuquerque, NM
The Western Society of Crop Science (WSCS) is pleased to announce the next annual meeting in Albuquerque, NM on July 12-13, 2016. The meeting is an opportunity to network with colleagues and students from around the West and exchange scientific information. Participants arrive on Monday, July 11. The tentative program will include a tour on Tuesday morning and afternoon (July 12). This year's tours will highlight the potential and challenges of small-scale agriculture in urban settings and products grown for local markets, as well as medium-sized farming operations in the region. A professional presentation session will occur Tuesday afternoon. Student oral presentations will be held Wednesday morning. Additional professional presentations will occur in the afternoon, followed by a business meeting, poster presentations, and an awards dinner Wednesday evening.
The meetings will be held at the historic Gutierrez-Hubble House in the South Valley of Albuquerque (6029 Isleta Boulevard SW, Albuquerque, NM 87105). The Hubble House, once a private residence, mercantile, trading post, stagecoach stop, and post office during the Territorial Period, is now a history and cultural center that documents the rich history of the blending of Spanish, Anglo and Native American cultures. The site also serves as an open space and an urban agricultural heritage farm.
2016 Award Recipients-
1st place - Mark Pieper, Utah State University
2nd place - Gurleen Kaur, New Mexico State University
3rd place (tie) - Israel Calsoyas, New Mexico State University
3rd place (tie) - Laura Johnson, New Mexico State University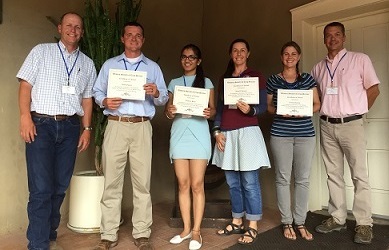 Questions:
Contact Mark Marsalis, 575-799-6448 or marsalis@nmsu.edu
Branch Information
Poster and Presentation Tips (from the ASA, CSSA, and SSSA Annual Meetings webpage)
Oral Presentations Score Sheet
WSCS Past Meetings Information

Regarding the A.K. Dobrenz Student Competition: The A.K. Dobrenz Graduate Student Awards were formally named in 1997. Dr. Dobrenz was a Professor at the University of Arizona, an early participant in the meetings, and an avid supporter of graduate student participation at the WSCS meetings.