Awards
Welcome to Awards, Scholarships & Fellows
Recognize your colleagues by nominating them for our prestigious awards, including Fellow. Undergraduate and graduate students: apply for scholarships and fellowships. Note that the 2016 Awards Program will open in February 2016.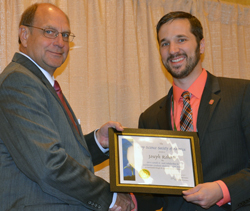 2015 Award Programs - Annual Meeting
Hilton Minneapolis - 7:00am Central
ASA Breakfast/Awards/York Plenary - Nov. 16
CSSA Breakfast/Awards/Klepper Plenary - Nov. 17
SSSA Breakfast/Awards/Brady Plenary - Nov. 18
Awards Policies
Award committee members may not be a nominee, nominator or reference for the award for which their committee is responsible. They can participate in all other awards. View the ASA, CSSA, and SSSA Executive Committees and Boards of Directors specific policies regarding their eligibility.
View award recipients through 2015: