Awards
Welcome to Awards, Scholarships & Fellows
Recognize your colleagues by nominating them for our prestigious awards, including Fellow. Undergraduate and graduate students: apply for scholarships and fellowships, including the undergraduate Golden Opportunity Scholars and Greenfield Scholars. ASA also announces the Reinvest ASA: Call for Proposals.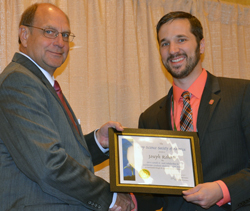 2015 Deadlines
Nominations open Feb. 5, 2015

Award Nominations Initated - March 31
Award References/Final Submission- April 7
Scholarships Initiated - April 7
Scholarship References/Final Submission - April 14
View Awards for a complete copy of the nomination form, including eligibility and requirements, to review before filling it out online.
To get started on some prep-work for the nominations:
1) You will need a log-in to begin a nomination: If you are not a member, create a contact record (select first time visitors link).
2) Obtain a current C.V. for each nominee including their Society email address on file.
4) Also helpful is to copy their Society membership/volunteer/leadership/committee service, available as part of our Membership Directory
3) Gather contact info for the references.
4) To resubmit past submitted Nominations: Log in, View Awards, select the Award -- go to the bottom of the page to import last year's nomination. Note: References will need to re-submit their letters and will be sent email instructions.
Awards Policies
Award committee members may not be a nominee, nominator or reference for the award for which their committee is responsible. They can participate in all other awards. View the ASA, CSSA, and SSSA Executive Committees and Boards of Directors specific policies regarding their eligibility.
View past award recipients through 2014: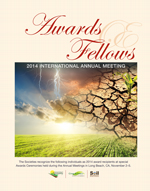 2014 Award Ceremony Photos on Flickr>>