Energy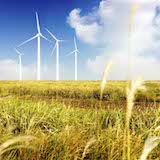 The U.S. bioeconomy is only one component of a large portfolio of alternative energy solutions to achieve independence from foreign fuels. To craft intelligent, effective policy for the U.S. biofuel sector, environmental, economic and social factors must be considered. These factors include the true costs of biofuel feedstock production to soil and water quality, and conflicts with competing market needs related to food, feed, and fiber. Policies and practices developed to support this economic sector must also incorporate measures to limit greenhouse gas (GHG) production during biofuel feedstock lifecycles.
Stewardship: Efforts toward national fuel self‐sufficiency and food security must not compromise our natural resource base or harm the environment. A national plan for biofuel feedstock production should consider the local, regional and national impacts to food and water security, long‐term soil health and productivity, and climate change. Furthermore, biofuel feedstock resource requirements must be considered in terms of the full lifecycle.
Research: An interdisciplinary, integrated approach will couple research on biotechnology and molecular genetics with research on crop breeding and cropping systems to realize a successful bioeconomy. Agronomic, crop and soil sciences promote advances in crop breeding and cropping systems development that bridge the gap between biological discovery and reliable expression of new traits in the field and production systems. ASA, CSSA, and SSSA support balanced investment in biotechnology and cropping systems research within the Biomass Research and Development Initiative (BRDI), a multi‐agency effort to coordinate and develop all federal bio-based products and bioenergy research and development. For more information see our Farm Bill one-pager on bioenergy.