Meet ICCA of the Year, John Heard: Scientist, educator, humorist
December 18, 2014
Certified Crop Adviser (CCA) Pat Lynch was the first mentor to John Heard, winner of 2014's International CCA of the Year Award. Pat worked with Heard's father, Dick, and helped get John started on the extension track in Ontario.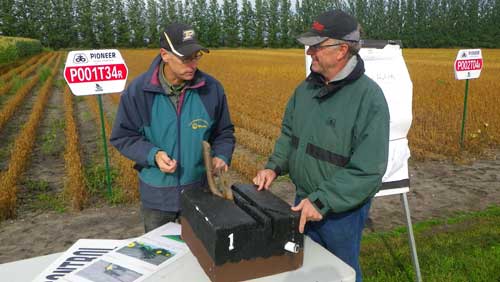 "John brought a lot of enthusiasm, energy, and humor to the job," says Pat. "I remember his shovel. His shovel would break on the handle in a manner that he could put it back together. We had a bunch of farmers who overworked their land and ended up with compaction. When John made a call where he knew compaction was a problem, he would take his 'trick' shovel to emphasize that to the grower."
Heard studied at the University of Guelph in Ontario and began working with extension after earning his bachelor's degree. He credits Lynch with encouraging him to use strong demonstration techniques in the field.
Early in his career, Heard worked with the Ontario Soil and Crop Improvement Association, helping farmers to implement farm tests and demonstrations. Many of the demonstrations were related to zero-till. "I was working with farmers in an area where zero-till was unconventional," Heard recalls. That work then prompted him to study for his master's degree at Purdue University in conservation tillage. He was in one of the first groups to take the CCA exam in Canada in 1996, after which he moved to Manitoba where he works as a soil fertility specialist with Manitoba Agriculture, Food, and Rural Development in Carman.
"Farming is not simple," Heard says. "We develop and share general guidelines, but growers are looking for specific recommendations. Since crop advisers tailor advice to individual growers, with their equipment and cropping practices, that's where we direct training."
Heard sees CCAs becoming more and more important as they are looked to for solutions to farming challenges such as phosphorus management, particularly when it takes center stage in the news like the Lake Erie algae blooms did this year.
"[The Lake Erie blooms] will have implications for all of us. Management practices develop over time, and often when you think things have become simple, they change…solutions can cause other problems. We have had Lake Winnipeg algae blooms. Our knowledge of the causes of these blooms has changed through research. We've found in the Prairies that in-season soil erosion is not our major contributor of phosphorus loss—but 85% is coming in snowmelt runoff in later winter. Traditional phosphorus loss solutions like zero-till and forages are not able to prevent snowmelt…and sometimes they contribute P to it. One promising strategy to keep P out of this flow in is subsurface band placement of phosphorus, which many growers are using. CCAs need to balance this practice with the logistics of short time and labor on today's large farms."
Rather than consulting individually with farmers, the focus of Heard's work is training CCAs and others who work directly with farmers to "do their jobs better and to reach more growers," Heard says.
"As an industry agronomist, I look to John as a resource of unbiased and up-to-date professional information to help me in the field and the farmers I work with," says Jason Voogt, CCA with Bud McKnight Seeds, Ltd. "It never ceases to amaze me how he always seems to have that piece of research, article, or contact to help me out. In his role as soil fertility specialist, he could simply just be a 'stay in the office' resource, but he strives to stay in touch and better his knowledge by being out in the field, helping set up trials, and answer questions we may have."
CPAg John Lee, a soil scientist with AGVISE Laboratories, agrees.
"John always goes beyond what you expect him to do. He is a great mentor to young and experienced agronomists. While he supports new agronomists with many efforts in his job, he challenges them to be critical thinkers and ask questions. You can find him out in the field helping on research projects and thinking about the projects he wants to do next year. The ICCA of the Year award could not go to a more deserving person!"
Heard's teaching skills and ability to communicate to varied audiences are two of the things that are often brought up by those who know him.
"John is just as comfortable speaking with and listening to producers and industry agronomists about practical problems and field solutions as he is with research scientists and academia discussing experimental design and data interpretation—a rare gift indeed," says CCA Curtis Cavers, with
Agriculture and Agri-Food Canada. "Low-tech gadgets that allow for quantification and comparison of field conditions are a common part of his repertoire that make his presentations useful and memorable to his audience. John's presentation style is second-to-none, as he kicks the door open to discovery and application of agronomic principles to the masses."
When discussing Heard's excellent teaching skills, Lee shares, "One project that stands out in my mind: He was trying to show growers how banding fertilizer near the seed can cause issues. John took large blocks of Styrofoam and carved out the seed channels and where the fertilizer bands are placed and painted them to make them look like real soil. He carved out many blocks to show different scenarios of row spacing, seeding depths, etc. I have seen John use these visual aids at meetings to drive home the importance of knowing where the seeds are in relation to the fertilizer band. I know he spent countless hours carving and painting these blocks of Styrofoam into educational tools that really got everyone's attention."
Heard is quick to return the gratitude expressed by those he has trained and worked with.
"I've just been really lucky to work with inspired and committed agronomists wanting to serve their clients better," he says. "I'm the lucky one."
This article originally appeared in the Nov.-Dec. 2014 issue of Crops & Soils magazine.