Digging in deep
September 16, 2015
College courses with active learning are common in subjects like physics and chemistry. The hands-on aspect of lab work creates a memorable, practical experience. But can it work elsewhere? By combining the lecture and lab components of their introductory soil science class, instructors at the University of New Hampshire found students were able to dig in deep.
"I've been teaching this intro to soils course for about 15 years now and after a while realized that the traditional approach wasn't getting some students engaged," said Serita Frey, a professor of soil science at the University of New Hampshire. "I began to read a lot of research on the ineffectiveness of lecture and how to bring in active learning and a more hands-on approach."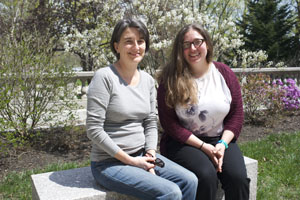 After blending the labs and lectures into a studio style course with mini-lectures, activities, and hands-on interaction, Frey saw significant increases in different types of student performance.
Overall, students in the studio course earned higher grades than those in the traditional course. The percentage of students having to retake the course dropped.
Most exciting to Frey was that the studio class "brought up the bottom." Students who were lower performing overall had more success compared to the traditional course.
"We found that, although those with higher overall GPAs were going to perform well regardless of the class structure, the students who weren't as strong academically were doing better in the studio course," Frey said. "We effectively didn't change the content taught in the course so it's great to think the studio structure helped the students."
Sarah Andrews, a first author on the project, was a teaching assistant for the traditional course as well as the studio course. She also did interviews with students before and after the studio course to get their impressions of the class. Many students said the studio class bridged a disconnect they often felt between lecture and lab courses.
The absence of a long lecture resulted in many students expressing anxiety before the first exam. However, after getting the study guide or taking the exam students were surprised by how much they knew, Andrews said. Some even considered it "sneaky learning" or "sneaky teaching" because they hadn't realized they were learning so much.
"They had primarily been lectured at for their entire college career," said Andrews, who recently graduated and is now teaching at Great Bay Community College. "That's how a lot of students view learning. They were just so entrenched in that idea and were shocked when they were able to learn another way."
Andrews and Frey said other benefits of the class include long-term memory retention and increased attendance. The students were also able to interact and engage more with their peers, teaching assistants, and professor.
Andrews and Frey invite anyone who is interested in taking advantage of the studio format to contact them if they want help getting started. The first step in the process, Frey added, is to think about how to combine those lecture and lab components and look for helpful resources.
"I am certainly available as a resource to anyone wanting to make the commitment," Frey said. "Even for me it's more fun and engaging and I'm more involved with the students. It's been a great experience using active learning to further our undergraduate education."
This research was published in Natural Sciences Education. The United States Department of Agriculture funded this research.