The Plant Genome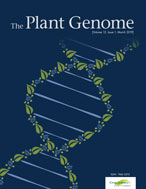 Featured: Molecular Characterization of Genetically Modified Crops
Molecular evidence from a sequence-based application, Southern-by-Sequencing (SbS), developed by Zastrow-Hayes et al., is used to characterize and select genetically modified plants meeting optimal molecular characterization criteria. SbS technology has proven to be a robust event screening tool for use in a high-throughput molecular characterization environment. >>

Announcements
Support Your Colleagues and Journals by Reviewing Manuscripts
The Editors-in-Chief of ASA, CSSA, and SSSA, and Director of Publications make a case for why you should take the time to provide timely and thorough reviews for Society journals. >>
NEW: Call for CSSA Editor-in-Chief
The Crop Science Society of America is seeking an Editor-in-Chief. See the position description here. The deadline for submitting applications is April 30, 2015.
Sign up for The Plant Genome TOC Alerts
Stay up to date with the latest TPG research by signing up for email Table of Contents Alerts. Click here to manage your alerts. Please be sure you are logged in.
About The Plant Genome
The Plant Genome is an international electronic journal published by the Crop Science Society of America. The goal of The Plant Genome is to provide the readership with a short submission-to-online publication of the latest advances and breakthroughs in plant genomics research. Impact Factor: 3.933; Online ISSN: 1940-3372
Questions or comments? For subscription questions, email journals@sciencesocieties.org. For content comments/questions, email egebhardt@sciencesocieties.org.