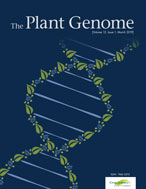 November 2013 Feature Issue—
Legume Genomics
In The Plant Genome's November 2013 feature issue, Legume Genomics, edited by Rajeev Varshney and Manish Roorkiwal, a select group of papers from the VI International Congress on Legume Genetics and Genomics covering the genomic aspects of seven legumes including chickpea, cowpea, lentil, lotus, peanut, pongamia, and soybean was published. Read the introduction to the feature issue here.
Announcements
Impact Factor
The Plant Genome received its first impact factor with the latest release of Thomson Reuters' Journal Citation Reports on June 20. It debuted at an impressive 2.463 and ranks 52nd out of 195 journals in the Plant Science category.
ACSESS Digital Library Goes Live
This year, the Crop Science Society of America launched the ACSESS Digital Library. The ACSESS Digital Library is a complete collection of all content published by the American Society of Agronomy, Crop Science Society of America, and Soil Science Society of America and makes it possible to search, browse, research, comment on, and share all three societies' published literature, including The Plant Genome, in one convenient place.
Sign up for The Plant Genome TOC Alerts
Stay up to date with the latest TPG research by signing up for email Table of Contents Alerts. Click here to manage your alerts. Please be sure you are logged in.
About The Plant Genome
The Plant Genome is an international electronic journal published by the Crop Science Society of America. The goal of The Plant Genome is to provide the readership with a short submission-to-online publication of the latest advances and breakthroughs in plant genomics research. Impact Factor: 2.463; Online ISSN: 1940-3372