Journal of Plant Registrations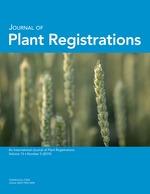 Featured Content
New Peanut Cultivar OLé
Field performance data indicate that production of the new cultivar OLé instead of OLin could save producers $150 to $400 ha−1 annually in disease management input costs. See more.

Announcements
NEW! Be a Reviewer
Support your colleagues and your journals by reviewing manuscripts.

Statistics
Authors of JPR registrations are now asked to provide ANOVA or other appropriate statistical table(s) to support means separation and other statistic-based conclusions. The ANOVA table should include the Sources of Variation, degrees of freedom, and mean squares with standard identification of level of significance indicated by *, **, or *** and properly footnoted.
JPR Online
The Journal of Plant Registrations isavailable as part of the ACSESS Digital Library, as well as through its own portal on the Crop Science website. New papers appear in the section "Just Published." Subscriptions to JPR are separate from those to Crop Science.
Sign up for Journal of Plant Registrations TOC Alerts
Stay up to date with the latest JPR research by signing up for email Table of Contents Alerts.
Click here
to manage your alerts. Please be sure you are logged in.
About
The Journal of Plant Registrations is the official registration publication of the Crop Science Society of America. The journal publishes cultivar, germplasm, parental line, genetic stock, and mapping population registration manuscripts, keeping breeders informed about new advances in the genetic diversity of crops.
Search JPR | Add a subscription | Author instructions
Questions on content, submissions, or subscriptions?