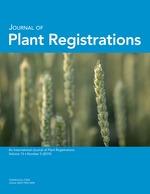 Featured Content
'Billings' Wheat
Large kernel size and superior yielding ability reflect the resistance of Billings, a hard red winter wheat, to diseases prevalent in Oklahoma and surrounding states. Read more.
Announcements
JPR Online
The Journal of Plant Registrations is now online only and no longer open access. It is also available as part of the ACSESS Digital Library, as well as through its own portal on the Crop Science website. New papers appear in the section "Just Published." Subscriptions to JPR are separate from those to Crop Science.

Sign up for Journal of Plant Registrations TOC Alerts
Stay up to date with the latest JPR research by signing up for email Table of Contents Alerts.
Log in
to your account to sign up.
About
The Journal of Plant Registrations is the official registration publication of the Crop Science Society of America. The journal publishes cultivar, germplasm, parental line, genetic stock, and mapping population registration manuscripts, keeping breeders informed about new advances in the genetic diversity of crops.