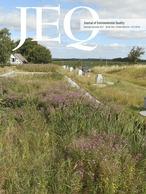 Featured Content
In the latest issue of JEQ, Bradford and colleagues review mathematical models that can be used to help understand and predict microbial movement and survival in the subsurface. Read more.
Special Sections
Look here for special sections pubished in JEQ.
Open Access Articles
Look here for recent open access articles in JEQ.
Just Published
Our Just Published page shows the latest content published. The articles are citable and searchable.
Digital Library
JEQ is published online only. Visit our ACSESS Digital Library to browse other ACSESS publications.
Sign up for JEQ TOC Alerts
Stay up to date with the latest JEQ research by signing up for email Table of Contents Alerts. Log in to your account to sign up.
Online ISSN: 1537-2537 Print ISSN: 0047-2425