Journal of Environmental Quality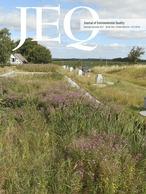 Featured Content
Researchers monitored the recovery of pH and metal concentrations over time after the drought in the Murray–Darling Basin ended and the soils were again under water. The recovery took longer than expected. Read more here.

Special Sections
Look here for special sections published in JEQ.
Submit to one of the special sections in development or propose a new special section.
New! Antibiotics in Agroecosystems: State of the Science
Diana Aga, Alistair Boxall, Eddie Cytryn, and Amy Pruden, Guest Editors. Call for papers
Announcements
NEW: Be a Reviewer
Support your colleagues and your journals by reviewing manuscripts.

NEW: Dataset Papers
JEQ is now accepting dataset papers, a new category of publication. See the Dataset Paper Author and Reviewer Instructions for detailed instructions, and read the JEQ editor's editorial here.
Call for CSSA Editor-in-Chief
The Crop Science Society of America is seeking an Editor-in-Chief. See the position description here. The deadline for submitting applications is April 30, 2015.
Digital Library
Visit our ACSESS Digital Library to browse other ACSESS publications.
Open Access Articles
Look here for recent open access articles in JEQ.
Just Published
Our Just Published page shows the latest content published. The articles are citable and searchable.
TOC alerts | Search JEQ | Add a subscription | Author instructions
Join the Society | Add a Member Subscription
Interested in an instituional subscription? Request a quote!
Questions on content, submissions, or subscriptions?
Online ISSN: 1537-2537 Print ISSN: 0047-2425