Women in Science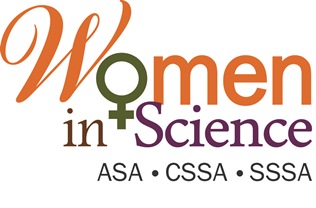 The Women in Agronomy, Crops, Soils, and Environmental Sciences Committee is dedicated to:
promoting the status of women in the three Societies,
encouraging women to achieve professional excellence,
establishing networks of women in the agronomic, crops, soils, and environmental sciences,
sponsoring meetings to address issues of special concerns to professional women in our sciences, and
fostering the informal exchange of information and contacts in support of professional activities of women.
New Feature - Women in Our Sciences!
We're excited to announce a new feature - developed by the Women in Science Committee. On an ongoing basis, our women scientists will provide short articles in CSA News with advice for everyone (not just women).
May 2017
Caitlin Price Youngquist offers tips on finding a work-life balance as an educator.
April 2017
Sabine Goldberg provides advice on work-life balance, information about working for ARS, and her profile so you can get to know her better!

2016 Women in Science Workshop
The 2016 Women in Science Workshop (held at the Annual Meeting in Phoenix, November 8) featured a presentation by Michael S. Seaver (an executive coach and leadership consultant from Seaver Consulting LLC) a group activity, and featured an in-depth look at leadership best practices, including material about the seven styles of leadership, building trust through meaningful relationships, and inspirational stories of successful leaders.
The workshop covered::
Styles of Leadership - There are seven styles of leadership - charismatic, participative, situation, transactional, transformational, quiet, and servant - each with certain personality traits of that leadership style.
Building Relationships - There are trust-building best practices that help with opening lines of communication, managing time, sharing resources, and more.
Special Thank You to our Coporate Sponsors - Monsanto and Bio Huma Netics - for supporting the Women in Science Workshop.

View Mentoring Awards and Past Recipients