Mindfulness Specialty Group
Mindfulness Specialty Group
Content developed by group moderator Sabine Grunwald.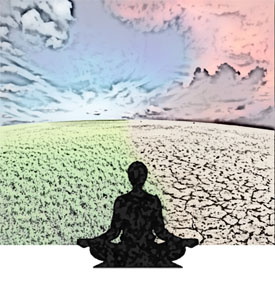 Sign up to receive notices from the Midfulness specialty group here (member login needed).
To find breathing space in a fast-paced, multi-tasking oriented work environment that is activity and achievement focused is a challenge. Mindfulness allows us to just be, focus, relax, de-stress, re-energize and nurture our body and mind. There are a variety of mindfulness practices, such as mindful breathing, meditation, gentle body movements, yoga or other.
Mindfulness is deliberately paying full attention to what is happening around you and within you (in your body, heart and mind) without judgement and self-critique in the present moment. Evidence-based research has shown that mindfulness provides significant emotional, cognitive, and body-based benefits, such as relaxation, improved learning and performance, kindness, and promotes health and well-being. Importantly, it also enhances our presence and awareness of the environment, deepening our relation to soils, water, crops, food, nature, life and the planet as well as ourselves, others and humanity.
The Mindfulness Specialty Group aims to integrate mindfulness into the fabric of ASA, CSSA, and SSSA and our professional and personal lives through mindfulness practice, explore mindfulness as a life skill, and share our experiences.
Contact Moderator:
Sabine Grunwald, Ph.D. | Professor | Pedometrics, Landscape Analysis & GIS Laboratory | Soil and Water Sciences Department | University of Florida | 2181 McCarty Hall (mailing address) | 2171 McCarty Hall (office) | PO Box 110290 | 32611 Gainesville FL | Email: sabgru@ufl.edu | Phone: 352-294-3145| Skype UN: sabgru | http://soils.ifas.ufl.edu/faculty/grunwald | http://ecolearnit.ifas.ufl.edu.
Leader of the UF Mindfulness Program | University of Florida | Email: mindfulness@ad.ufl.edu | https://mindfulness.ufl.edu | https://www.facebook.com/MindfulnessUF | Twitter: @sacred_swamp.