Agricultural Politics Specialty Group
Agricultural Politics Specialty Group
Initial content for this specialty group webpage organized by group moderator Wayne Roper.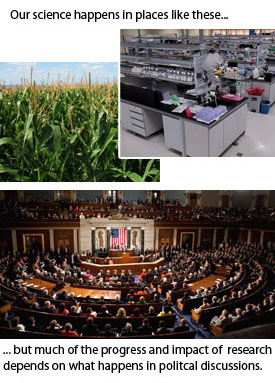 Statement:
A significant amount of crop and soil science research may influence governmental policy, but the mechanisms of policy are not typically aligned with the progress of research. The Agricultural Policy specialty group encourages people to discuss research as a public good, and how policy is currently affecting the impact of agricultural research and product development. What aspects of agricultural policy have been beneficial to advances in crop and soil sciences? What aspects have been detrimental? What can people do at local and national levels to help influence change in agricultural policy? People from academia, industry, government, and other areas of society are welcome to join the group and share their thoughts on the matter.
Sign up to receive notices from the Agricultural Policy specialty group here (member login needed).
Goals:
Develop an understanding of agricultural policy that could benefit everyone
Enjoy the company of people who have a strong interest in sharing their perspective about the interconnectedness of agriculture and policy
Agenda:
The societies started an initiative to encourage members to participate and curate special interest groups during the 2017 ASA-CSSA-SSSA annual conference. Attendees of the 2017 conference will likely be interested in various topics, but due to recent events, there is one topic that has simmered in the minds of Americans for the past year: politics.
The Agricultural Politics discussion group hopes that people are becoming more aware of how science and politics are intertwined across the world. Science evolves and changes as new information and techniques are developed, but the effect that science has on a society is often limited by the policies that control it. If you are not convinced, consider that agricultural studies can influence food production, food safety, commodity prices, environmental regulation, biological technology, farming culture, international trade, and more. These are issues that have serious societal implications that may weigh heavily on even the smallest research project.
We want to give people a place where they can connect to people who have a strong interest in learning and sharing their perspective about the interconnectedness of agriculture and policy. We can discuss many issues including regulation, funding, advocacy, and personal experiences with research and policy. The Agricultural Policy Specialty Group hopes to have people many backgrounds join and participate so that we can hear a variety of perspectives that will guide us towards an understanding of policy that could benefit everyone.
Suggested topics for 2017:
The Agricultural Act of 2014
The objectives of federally funded agriculture research
Avenues for supporting and promoting policy based on science
Understanding the history of agricultural policy and its effect on society
Implications of new technologies and policy (patents, biological engineering)
The future of organic agriculture policy
(More suggestions from participants…)
Discussion Board: