Crop Residues Attend

Register Today





Full registration inlcudes all three days, the evening reception, three breakfasts, and three lunches. Sessions begin Tuesday morning, August 15, and conclude end of day Thursday, August 17. One day registration includes breakfast and lunch.

To foster discussion, registration is limited to 200 attendees. Register today!
| | |
| --- | --- |
| July 20 or Before | $295 |
| July 21 or After | $395 |
| One Day | $200 |

Can't register online? Click to download and print the Registration Form (PDF) and return it to:
lnavis@sciencesocieties.org
Fax: 608-273-2021
Mail: ASA, CSSA, and SSSA
5585 Guilford Road, Madison, WI 53711
Phone registration not available.
Registration questions: lnavis@sciencesocieties.org

Not a member? Join Now!* ASA | CSSA | SSSA

PAYMENTS, CANCELLATION AND REFUND POLICY:
Make checks payable to ASA-CSSA-SSSA (must be drawn on a U.S. bank in U.S. funds, including routing numbers). Accepted credit cards include Master Card, Visa, Discover, and American Express. Registration forms without payment will not be processed. Cancellation requests received in writing on or before June 30, 2017, will be refunded the entire fee. Cancellation requests received in writing from July 1 through July 20, 2017 will be refunded the entire amount, less a $100 administrative fee. There are no refunds for registrations after July 20, 2017.


Location & Hotel Rooms
All Workshop sessions will be held at the Sheraton Grand Sacramento, which is located in the heart of California's capital city.

All Single & Double rooms within our block are available at a rate of $155 per night, plus taxes. Negoitated rates are available 3 days prior and 3 days after the event date, based on availability.

All reservations must be received by July 28, 2017, to guarantee availability and discounted rates. After this date, reservations will be made based on availability and the hotel may charge a higher rate.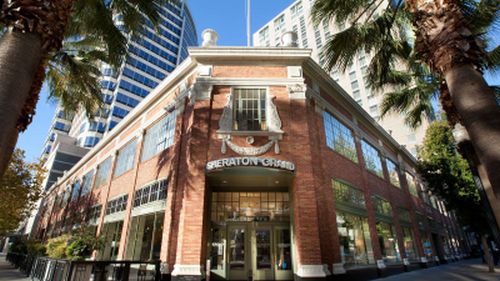 ASA-CSSA-SSSA has negotiated a discounted hotel rate for you at the Sheraton Grand. In order to secure this rate and hold rooms, we had to sign a contract guaranteeing that a certain amount of our attendee's will stay at the Sheraton Grand (called the "block"). Your choice of hotel affects the Tri-Societies' ability to negotiate future contracts and discounts, as well as fulfillment of our contractual agreement with the hotel. Thus, we kindly ask that if you can, please choose to stay within the ASA-CSSA-SSSA block.

If you are not able to reserve using the above button, please call 1-800-325-3535 and ask for the ACSESS – Crop Residues for Advanced Biofuels Workshop August 2017 Rate at the Sheraton Grand.
Transportation
The Sacramento International Airport (SMF) is located about 20 minutes drive from the hotel. Currently Uber, Lyft, and taxis are available; the average cost of taxi from the airport to the Sheraton Grand is $40. Super Shuttle is also available.

Self-parking is available at 900 13th Street for $20, or $32 for valet.