Awards and Scholarships
Spring Awards Nominations
Every Spring the Societies open nominations for numerous awards, scholarships and fellowships. Click here to browse the full list.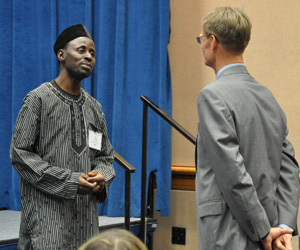 Frank D. Keim Graduate Fellowship
$3000 to undergraduate senior recipients of the National Student Recognition Program in the agronomy field or related.
Nelson Yield-Limiting Factors Graduate Student Scholarship
$5000 to a graduate student in the agronomy field.
Crop Science Graduate Student Scholarship
$4000 to a graduate student in the crop science field.
Mott Award
Recognizes an outstanding graduate or Ph.D. student in the crop science field. Recipient must be nominated by faculty, and receives a plaque and recognition in April CSA News.
Fall Awards Nominations (Science Policy)
Congressional Science Fellowship
The Fellow selected will spend one year in Washington DC, applying his/her professional and scientific expertise as a special assistant on the staff of a member of Congress or Congressional committee.
Future Leaders in Science Award
Award winners will travel to Washington DC for an opportunity for graduate students to engage with policy-makers in order to raise awareness and support for science, technology and research funding through the Society Congressional Visits Day (CVD).
At the Annual Meeetings
Graduate Student Leadership Conference
The Graduate Student Leadership Conference provides professional and leadership development to graduate students, and includes sessions on networking, professional etiquette, leadership, and oral and written communication.
Elevator Speech Contest
Try out you elevator speech on our panel of judges for a chance to win in this fun contest!
Many of the Divisons offer contests for students presenting research at the Annual Meetings.