Careers
Grow Your Future with a Career in Crop Science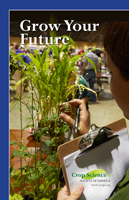 Crop science is the study of growing food, feed, and fiber crops. The work involves plants and all the factors that promote their development, such as light, water, temperature, and nutrients, as well as those conditions that inhibit their development including diseases, weeds, and insects.
Crops scientists identify, interpret, and manage crops for agriculture, urban uses, and rangeland in an environmentally responsible way. Crop scientists can choose from a range of excellent professional opportunities and challenging careers.
Visit our Career Center website for more Career Tools and information.
Be sure to participate in our Career Center and Career Fair at the 2018 ASA, CSSA Annual Meeting, November 4-7, Baltimore, MD.
Crop Science career paths include:
Agricultural production
Laboratory technicians & managers
Laboratory & Field researchers
Government & Academic research
Education
Consulting
Extension